International Franchise Exhibition, May 30 - June 1, New York, U.S.A

Dear Company Representatives,

The Economic and Commercial Office of the U.S. Embassy in Tirana invites representatives from private sector interested to bring in Albania U.S. Franchising (business models) to participate in the largest International Franchise Exhibition that takes place from May 30 to June 1, in New York, U.S.A. If you would like to attend the event, please fill in in the attached form and send it to USALBusiness@state.gov BEFORE March 31, 2019. Below, please find detailed information on the show, exhibitors, and attendees, as well as services offered by our office. For detailed information on the show please visit https://www.ifeinfo.com/
You can also explore the companies registered to exhibit up to now https://www.ifeinfo.com/exhibitor-list.cfm
The International Franchise Expo is a 3-day event which features over 400 franchise exhibitors, with investments ranging from $5,000 to $1M+ and a wide range of product categories. Visitors have the opportunity to meet face-to-face with executives of the exhibiting franchisors. They also have the opportunity to attend in-depth conference programs, as well as free seminars. Franchising is a strategy proven to grow businesses quickly – a strategy used by some 75 industries to develop national brands. Millions of people have opened their own businesses by buying a franchise. The opportunities at IFE cover multiple markets and industries. The event brings together expanding and developing franchise concepts with the highest qualified franchisee candidates in the USA and around the world.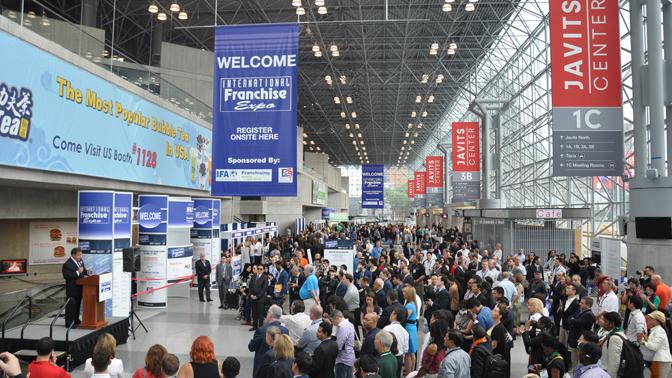 Product Categories: IFE anticipates the franchise categories available at the show to once again include, but not be limited to:

Accounting/ Tax Services
Audio Visual Products & Services
Automotive Products & Services
Beauty Products & Skin Care
Beverages
Business Products & Services
Children's Products & Services
Coffee
Computer/ Electronics Products & Services
Educational Products & Services
Entertainment Services
Environmental Services
Financial Services Fitness
Food: Ice Cream/ Fruit Smoothies/ Yogurt
Food: Meal Preparation,
Food: Pizza, Restaurants,
Food Specialty
Franchise Consulting
Franchising Association
Gaming & Entertainment
Health Aids & Services
Internet Services/ Online Business Development
Lawn, Garden, Agricultural Products & Services
Maintenance, Cleaning & Sanitation
Marketing/ Public Relations
Package Preparation/ Shipment/ Mail Services
Pressure Washing, Painting & Restoration
Printing/ Photocopying Services
Promotional Items
Publications
Recreation: Exercise, Sports & Entertainment
Senior Services
Sign Products & Services
Spas: Day & Medical
Transportation Services
Travel Services
Uniforms

Who can attend: The potential attendees are all individuals or investors seeking investment opportunities in business format franchising. Particular professional or technical qualifications are not typically relevant. Often, existing companies are seeking investment opportunities in franchise businesses that are similar to or compliment their existing operations. Other businesses however, may be seeking to diversify from their existing core business into new, potentially more lucrative markets.

Location: Jacob K. Javits Convention Center, New York
Trade Show Floor Hours:
• Thursday, May 30, 2019 10:00 am to 5:00 pm
• Friday, May 31, 2019 10:00 am to 5:00 pm
• Saturday, June 1, 2019 10:00 am to 4:00 pm
Our office will facilitate the participation of the Albanian delegation by providing the following:

• Free Exhibit Hall Registration (valued at $20)
• Discounted admission to workshops (50% discount valued at $120 -$330/workshop)
• Free assistance arranging and scheduling appointments with U.S. exhibitors and companies before and during the show
• Free access to International Business Center including meeting rooms to meet with exhibitors
• Assistance with logistics at the show and the list of approved hotels by the Exhibition Organizers
• Assistance providing delegates visa invitational letters
• Invitation to International Reception

We also plan to escort the delegation and provide assistance on the ground. Please note that application for the visa and all costs related with the trip are the responsibility of the attendees. Please do not hesitate to reach out to our office if you have any questions.
Aplication form (Click here)
Contact
Edi Jaçellari
Commercial Assistant

U.S. Embassy Tirana, Albania, Political and Economic Section

Tel.: +355 4224 7285 ext. 3116
Mob.: +355 68 208 0367