Solar Power International Trade Show | September 24-27 - Anaheim, California, USA
The Economic and Commercial Office of the U.S. Embassy in Tirana, invites representatives from both public and private sector, who operate in the solar power business to attend the Solar Power International Trade Show that takes place from September 24-27, in Anaheim, California, USA.

We would highly appreciate if you would consider attending the event. If yes, please fill in the attached form and send it to USALBusiness@state.gov BEFORE August 15, 2018. For more information on the show please visit https://www.solarpowerinternational.com/
SPI Overview
SPI is the largest solar show in North America; It is expected to attract over 650 exhibitors and over 20,000 attendees from more than 100 countries. Focused on providing the latest updates and information for the solar energy industry, SPI features multi-track conference sessions and a large curriculum of conference workshops including business & market trends, solar+storage, utility & grid integration, just to name a few.
Product Categories:
Manufacturing Equipment, Meter, Performance Monitoring, PV Cell, PV Material, PV Module, Racking System, Solar Thermal Collector, Tracker, Operations & Maintenance, Energy Storage, EPC Contractor, Government, Investor/Financier, Manufacturer – Battery, Manufacturer (Building Integrated PV, Concentrating PV, Consumer PV Products, CSP Components, Inverter, Operations & Maintenance - Panel Washing, PV Distributor, PV Installer/Contractor, Real Estate Developer, Smart Home Technology, Solar Hot Water Distributor, Solar Hot Water Installer/Contractor, Utility, Vertically Integrated Solar Company, Academic, Architect/Builder, Business Services, etc.

List of Companies Exhibiting in the show: Please visit the following link for a full list of exhibiting companies registered up to now https://spi18.mapyourshow.com/7_0/alphalist.cfm?alpha=*


Energy Storage International (ESI): ESI, the largest energy storage exhibition in North America, with over 150+ exhibiting companies, will be co-located with SPI 2018. As energy storage increases the power of solar by storing and releasing energy on-demand where it is needed on the grid, both utilities and energy providers can take advantage of increased revenue and customer satisfaction.

Hydrogen + Fuel Cells North America: Hydrogen + Fuel Cell (H2+FC) North America will also be co-located with SPI 2018. H2FC exhibitors profit from several synergy effects between the solar and energy storage industry. The topics of H2+FC North America will be hydrogen generation, storage and transportation, fuel cell systems and applications, stationary, automotive, mobile fuel cells, components and supplying technology, and fuel cell and battery testing.

Smart Energy Micro-grid Marketplace: Home, building automation, and smart energy technologies are natural compliments to the solar industry, as automation technologies focus on using energy more productively. Everything comes together at SPI in The Smart Energy Microgrid Marketplace. In 2018, the marketplace will include the entire solar, storage, hydrogen fuel cells, and smart energy microgrid landscape. The marketplace features a fully-functioning "live" microgrid, power conversion equipment, energy management systems, building and home smart energy products, electric vehicle charging stations, energy storage systems, and solar energy products—ultimately making the connection between solar, storage, hydrogen fuel cells, and smart energy.
Potential attendees:
Manufacturers; Government officials with responsibilities in solar; Installers/Contractors; Construction/EPC Contractor; Project Developers; Solar Integrator; Financial/Legal Firms ; Consulting Services; Solar Suppliers; Distributors; Business Services; Utility; Nonprofit; IPP (Independent Power Producers).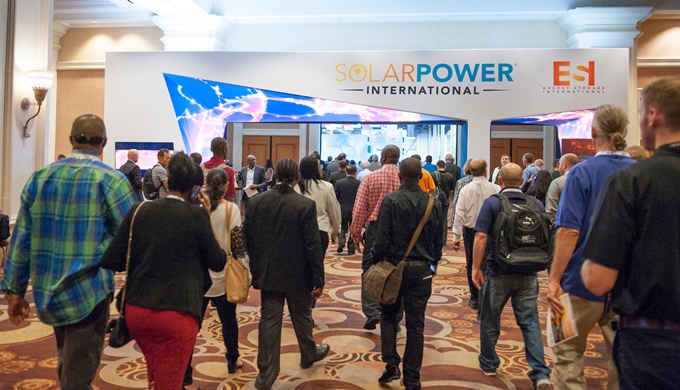 Service our office offers:
• Complimentary (free) exhibit hall visitor pass (valued at $175/day or $375 for three days) - Exhibit pass provides entry to SPI exhibit floor and co-located events (workshops are a separate fee), expo hall sessions, use of International Business Center, IBP reception and other exhibitor receptions on the show floor.
• Reduced SPI Conference package at: $830 (valued at $1,230.) Discounted SPI rate provides access to education sessions, exhibit hall, welcoming networking reception and block party event.
• Meetings with U.S. exhibitors - Meetings arranged in collaboration with Department of Commerce team working in the show.
• List of exhibitors who indicate an interest in exporting to the region.
• Complimentary use of the International Business Center, relaxing lounge area with large round tables for B2B meetings with U.S. exhibitors, refreshments, and interpreter assistance if needed
• Dedicated IBP Registration Badge-Pick up area.


Application Form - Solar Power International 2018
Contact
Edi Jaçellari | Commercial Assistant | Political and Economic Section | United States Embassy Tirana
Phone: (+355) (4) 229 3116
Mobile: +(355) 68 208 0367
E-mail: jacellarie@state.gov